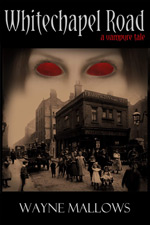 Born in the south of England in 1854, Aremis' life had been largely pre-orchestrated from birth, but unbeknownst to anyone, that life was not to come to fruition.

Expecting to meet his wife-to-be at the annual harvest festival in order that their wedding could be formally announced to the members of their small hamlet, Aremis had no idea that the evening would usher in an evil far behind his comprehension.

In the wee hours of that same night, Aremis is discovered lying upon a deserted forest road. The side of his neck had been torn open and he was barely breathing. Take to the home of the local doctor, Aremis is nursed back to health by his sister Temperance, and as he slowly regains his strength, the terrifying truth begins to unfold.

Temperance, gifted with something she refers to as, "her other sight", quickly begins to realize her brother is no longer the man she had grown up with. Unable to reconcile this situation and unwilling to jeopardize the lives of herself or her family, Temperance devises a plan. Aremis, with few options available to him, is forced to leave his home in the hope of finding answers within the larger city of London.

It is there, on the shadowy back streets of the city's unsavoury east end, haunted by vivid night terrors that blur the line between that of reality and fantasy, he finds himself afflicted by what appears to be an ancient curse. As he tries to come to terms with this horrific situation, he is suddenly drawn into playing a deadly game of cat-and-mouse with a beautiful female stranger. As the bloody game unfolds, it quickly becomes evident that this deadly woman may be the only one who can explain the horrors that have besieged him. With the entire community in danger, and time running out, Aremis is propelled towards an inconceivable confrontation, one of which will find him at the centre of the most horrific string of murders in London's history.
Revised Edition 2019
In large "trade" size paperback,
Softcover
From Amazon - A New Kind of Read - By Michelle Desrochers, May 18, 2013
This review is from: Whitechapel Road - a Vampyre Tale: As a Vampyre enthusiast I really wasn't sure what to expect! A Jack the Ripper story with a Vampyre twist! Well I surely wasn't disappointed. Mr. Mallows has a wonderful gift of making the reader feel like he/she is a part of the story! The details are so vivid, and the historical information was well researched. I thoroughly enjoyed the book, and highly recommend it to any Vampyre lover looking for a different kind or read!
I will also have copies of the book with me for sale at various events and will be doing book signings also.
I look forward to hearing how you liked it.
Wayne ^v^